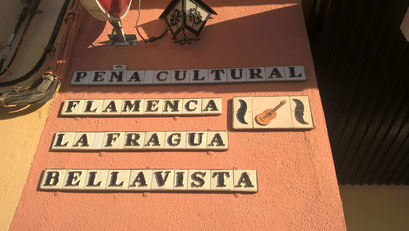 Performing in Sevilla is definitely an experience. Not only enriching and inspiring but also interesting and one of a kind for many reasons. I had a chance to dance in many venues in Sevilla and one of them was Peña Flameca La Fragua. 
Peña is an association of flamenco lovers that pay dues every month to have their place dedicated to support this art and invite great artists to perform there.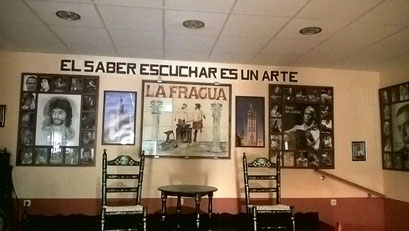 It's definitely an honor for anyone, and especially foreigners, to dance at any Peña.
La Fragua means The Forge and that is why in the center of the stage you can find a tile arrangement showing two blacksmiths in the forge. A lot of flamenco lyrics talk about the hardship of a blacksmith as forging used to be a typical job of an Andalusian gypsy.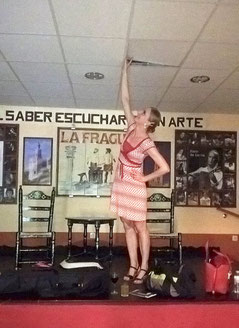 We arrived at the Peña and the first thing that occurred to me was the low ceiling on the stage! I jumped on the stage and standing right in between the greatest flamenco signer Camaron and guitarist Paco de Lucia, I reached out to the ceiling and realized I could touch and move one of the shitracks! I knew I had to watch out not to reach too high during the show :)))
Our poster right below the poster for an amazing flamenco festival happening later that month in the Peña!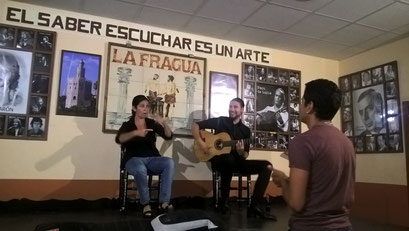 Time for a quick rehearsal!! Usually the only one or one of the two. Tablao or Peña shows hardly involve more than one or two rehearsals if any.
After changing in the Peña's office/changing room, all is left is for to relax and wait for my time to come out on stage!
And... last but not least! We cannot stop dancing and signing and the bus is taking a while to come!!