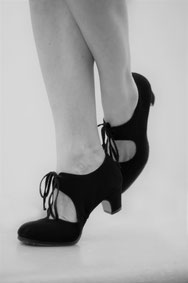 Buying your first flamenco shoes can be quite tricky. You can of course start taking classes with character shoes or street shoes with a wide heel, however, you can only learn how to create percussive footwork if you have flamenco shoes. There isn't just one model, one heel and one design for all. There are many options and here is a rough guide on what to choose. My favorite flamenco dance shoe maker is Roberto Garrudo from Seville and most of the prices and examples that you will find in my blog come from their website.
1. Professional or semi-professional
The difference between professional and semi-professional shoes is that the professional ones have a sole that has been glued and sewed on. Semi- professional shoes are glued only. The extra reinforcement makes the professional shoes much more durable and I usually recommend professional shoes unless you have a limited budget or are buying shoes for a child that is still growing. The semi-professional shoes start at 64,95 € while the professional shoes start at 89,95 €. Always look for sales that might be going on.
2. Heel type
Every flamenco shoe maker offers shoe customization which means you can choose any parameters about your flamenco shoes, including the height of your heel.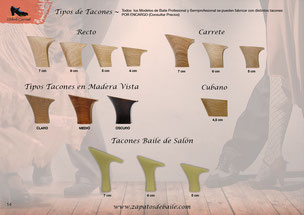 Most shoes come with a default heel of 6 centimeters which is 2.36 inches. You can customize your shoes and select any heel height from 4 - 7 cm. 
You can also select the heel type:
Recto - regular, straight heel
Carrete - bobbin, slightly curved heel
Cubano - Cuban heel, the widest and most supportive heel
My favorite style is the Recto style, 4 cm or the Cuban heel.
3. Leather or suede
You can choose whether you prefer shoes made of leather or suede. This applies only to the outer layer as the entire shoe is made of leather, wood and nails. Some dancers claim that leather shoes are more durable, however, I find the suede shoes more durable. It's easy to scratch the leather toe cap with nails that are on the bottom of your shoes while dancing. These scratches will never show on shoes made of suede. Suede shoes are also softer and adapt to our feet faster.
4. Type of closure
Whenever I look at the videos of the great Manuela Carrasco, I wonder how she is able to dance in the shoes with elastic! Elastic is generally the most traditional closure that used to be used but it also is least supportive and fastest to wear off. Other types of closure are buckles and laces. My favorite is the lace closure. Lace closure is the easiest to adjust which can change with the swelling of your feet during summer or your shoes getting worn in. Best if you like a tight fit. Buckle fit is not the tightest due to the spacing of the holes. Buckle fit is also not the most durable as the buckle is attached with an elastic that looses elasticity over time.
---
Roberto Garrudo shoes are made in Spain and if you purchase them they will be shipped from Spain. Their shipping is very fast and economical unless you choose to select custom shoes where it can take 50-60 days to have the shoes made.
Other option to consider is searching for flamenco shoes on Ebay. Just remember that the shoes made in Spain will be better quality than shoes made in any other country. Finally, if you prefer to have shoes shipped from the United States, the only flamenco shoe company that has a physical presence here is Menkes. They have a store in New York and you can visit them in person or buy from their website. 
Every person and every feet are different. Have you found your perfect flamenco shoe brand? Please comment your opinion.